I Need A Box…
Our days rarely end up as planned. Every morning we feel inspired to get many things done. By the end of the afternoon, we feel accomplished that we found a box.
Arusha is quite a large city (population around 400,000). In fact, it is considered the safari capital of the world. It pretty much has everything one would need to do anything at all. It's just not easy finding those places because, well, Tanzania.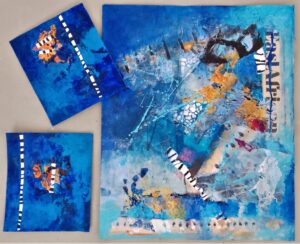 I am going to be shipping a few small paintings to my niece who has requested some art for her room at college. I'm so excited to be able to do that for her! One would think that the bigger task with this request was the creation of the art. But in fact, it has been finding a long rectangular box that proved to be the greater challenge.
The Search Begins…
We set out on our mission yesterday, early afternoon around 1 p.m. There is a DHL location in town, but I had been there before and it's just an office where you drop things off. Google told me there was a DHL retail outlet at one of the main shopping plazas, so off we went to buy a sturdy shipping tube that would guarantee safe arrival of my art to the US.
We arrived at Shopper's Plaza where the google pin indicated the store was, and parked our car close by. Walking around the back of the plaza where lots of little businesses are, there was nothing in sight to indicate a shipping supply store. After a few minutes' stroll canvassing the area, peering inside the Chinese Restaurant and the Gelateria in case they might have a box display off to the side, we realized we were most likely not in the right part of this rather large plaza.
We then decided to pop into the computer store and say hello to Asif, the owner, whom we've gotten to know. Alas he was away in Mombasa, so we chatted with his assistant Juma, while looking around at all of the computer supplies on the shelves, still in their boxes. We explained we were looking for the DHL store which he said he was not aware of except for the main location. He then got on the phone and jabbered away for a minute, hung up, and told us his friend was on his way and he could help us.
Everyone seems to have a friend that can help us with what we need, so we thought what the heck, we'll wait here and see if the likelihood of his friend getting us what we need will happen. The friend arrives, and it turns out he wants to ship whatever we need shipped, after it is in its box. So, that solution dissipated in a cloud of exhaust as he departed on his piki piki.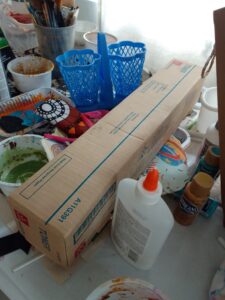 I ask Juma if he can empty one of the boxes filled with ink toner as I can tell it's the perfect size. It's not so sturdy and the art will arrive destroyed, but it's a start. He was happy to oblige and we were happy with our box!
We say our Kwaheris (good-byes) and decide to stop in the main grocery store while there. Right outside the entrance, lo and behold, is a big sign that says DHL Retail Outlet. Perfect! We have found what we need and realize it must be a kiosk of sorts inside this big store.
Asking the security guard at the entrance for directions, she gives us a blank stare. Our request apparently is not making sense. We write this off to a possible language barrier and decide to walk over to the service desk.
But not before noticing that the person walking into the store right after us is a Masaai tribesmen dressed in his traditional shuka robe. Stopping at the security desk, he hands over his machete for safe keeping, and proceeds to shop. I make a mental note that this now seems completely normal to me, and I feel good about having acclimated to living in Tanzania. I also notice that there is no indignation on the part of the Masaai at having to surrender his weapon temporarily. It is not a personal affront to his rights – just plain old common sense for all parties involved. Maybe the US should consider asking people to check their guns at the courtesy desk before they start their grocery shopping. Just a thought. Lately Africa makes a lot more sense to me than the US, but I digress.
Still looking…
We stroll over to the service desk and ask where in the store we can find the DHL kiosk. The gentleman tells us it is not here. It moved a year or two ago to the main location about two kilometers away, near the clock tower roundabout. We mention to him about the big DHL sign immediately outside the entrance which he acknowledges and says 'ah yes, we keep forgetting to take that down'.
And this is how it goes. All the time.
It's now 3:30 p.m. and although we are in a possession of a questionable box, we know we need to go to the main DHL office next to see if they will allow it. Better yet, maybe they now carry shipping boxes or tubes that we can purchase! We're not holding our breath.
Meanwhile, to justify this lengthy trip into town which has probably cost us $7 in fuel, $2-$3 in parking, and no doubt $5 in  upcoming bribery fines to the police as we know for certain we will get stopped at some point, we decide to do a little shopping. It is not lost on us that this free box is costing us money.  Needing to make this trip count, we decide to buy cat food, a bottle of gin, fresh dill, chapatis, bread, cookies and toilet paper. The important things.  At least we now feel like the afternoon has served a greater purpose.
Off we go again…
So off we go to the DHL main office. We pay for more parking while I run inside to ask a quick question. But I must sit and wait. Others are in front of me and you don't just ask a question here and dart off. Tanzanians are very polite. Everyone gets their turn in due course, no matter the reason you are waiting.
Finally, it's my moment. I've brought my flimsy box with me to see if it cuts the mustard. The kind man says as long as we reconstruct the inside with additional support it should be fine. Which sounds to me like we're going to need to find another box to dismantle and use for reconstruction.  But hey – we have a plan now, and as it turns out I have nothing better to do tomorrow. My week is beginning to unfold with myriad new reasons to get out of bed in the morning.  Which is great because we can't possibly continue on with this madness any longer. We need to get home and fix a gin and tonic to recover from today's outing so far.
Traffic and cows and people and…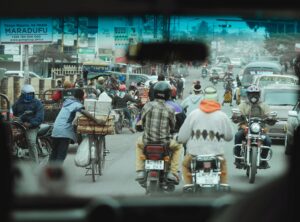 These excursions never really sound like that much of an ordeal. But when it takes four to five hours to go into town to find a box, deal with crazy traffic coming at you from all directions, including pedestrians that wander aimlessly into traffic, cows tethered to the side of the road making one miscalculation a potential horror, beggars and fruit sellers coming up to your window while driving, and being waived down by the police for non-existent infractions, it takes its toll on you.
Sometimes I wonder how much more I could accomplish in my life if the simplest things didn't take at least a half day to complete.
Pretty sure I will never know, and that might just be for the best.