A painted story…
Zanzibar Dreams
 Zanzibar Dreams
was inspired by a trip to Zanzibar where we hired a small local boat to take us out into the Indian Ocean, and headed to Changuu Island, also known as Prison Island.  This lush, overgrown island was initially a holding place for slaves, and then transformed into a quarantine station. The now abandoned buildings provide an exotic backdrop for what has become a government-owned tourist destination.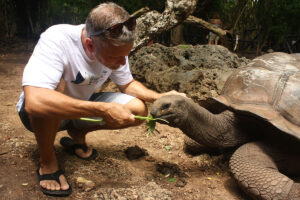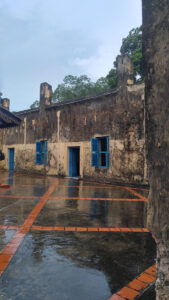 The main attraction is a giant tortoise sanctuary, and you can walk among these gentle beings and get up close and personal while feeding them leafy vegetation.  The tortoises were a gift from the British Governor of the Seychelles in 1919, and some of them are now said to be over 150 years old.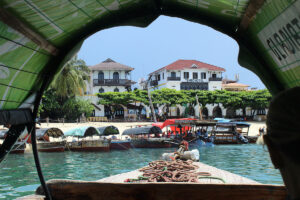 We spent our morning exploring the beauty of this small island, visiting the deserted buildings. Back on our little boat we motored offshore to do some snorkeling in the intense blue water. Dark skies off to the west and a storm brewing over Zanzibar were headed our way. This only served to intensify the beauty of the ocean and saturate the colours of everything in our line of vision.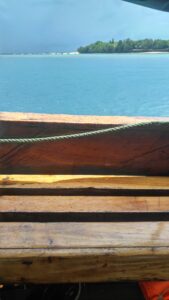 While viewing my photos upon our return the original image caught my attention.  I loved the harmony of the colours, and the subject and composition evoked a creative desire in me. A glimpse of the sea from inside this little roughshod wooden boat set the wheels in motion for me to begin.  Next, I cropped the photo and straightened the horizon, and suddenly the real inspiration for the painting was right in front of me. This became my first 'Painted Story' and I hope to bring you many more from our travels. Follow us on our website or
Facebook
as I continue to create and share my world with you.